WHO ARE WE?
GSENZ stands for Grape Seed Extract New Zealand
GSENZ is a New Zealand brand specializing in Grape Seed Extract products which owned and operated by NATORG International Limited. Grape Seed Extract is well known of its high potency antioxidant. Our Grape Seed Extract is naturally extracted using environmentally friendly process that uses no chemicals, only water that can retain the bioactives in their natural form.
Our proprietary blend of extracts from Sauvignon blanc grape seeds is specifically formulated and clinically proven with beneficial results to skin and general well being. Supported by intensive research studies, our ingredients add health functionality to a wide range of products, including dietary supplements, skin care and personal care products. We emphasize oral intake of specially formulated supplement to rejuvenate your body from the inside. In order to achieve optimum health benefits and skin health, we develop complementary personal care products to build and provide antioxidant protection to your skin from the outside.
In GSENZ, we are passionate to provide consumers with the assurance and confidence that most of our personal care products are natural without nasty chemicals. It is essentially important to ensure there is no irradiation of end products delivered to our customers. Our products are suitable even for the most sensitive skin.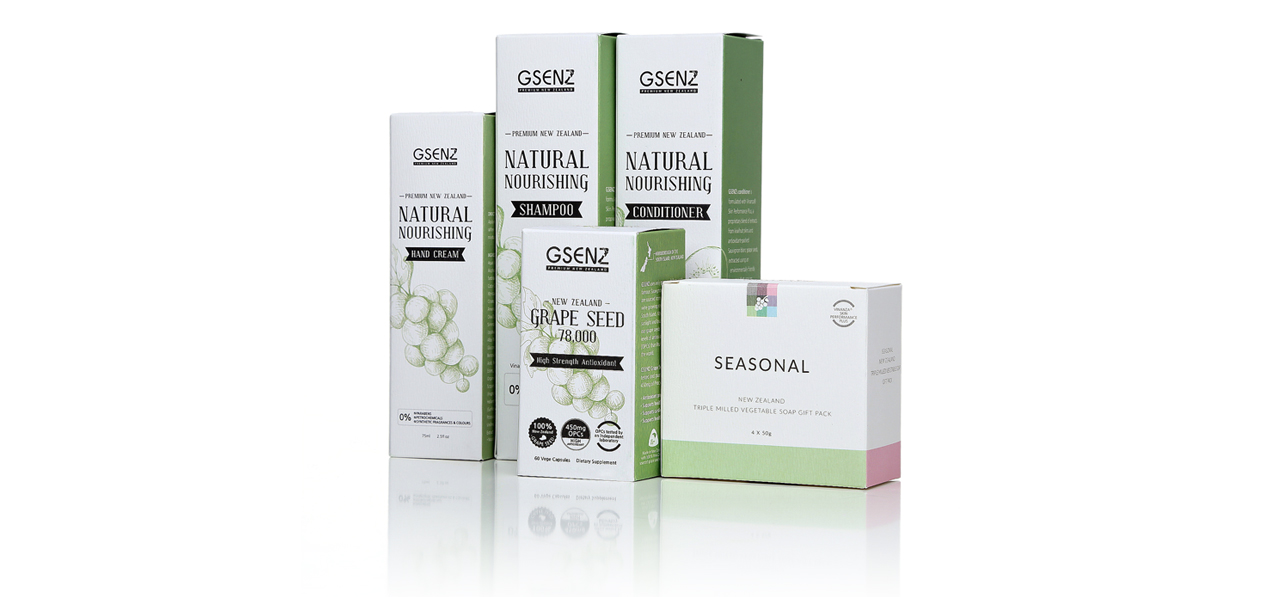 WHAT IS GRAPE SEED EXTRACT?
Grape Seed Extract is a polyphenolic compound that is unusually high in plant flavonoids called oligomeric procyanidins, better known as OPCs. OPCs in Grape Seed Extract contain 20 times the antioxidant power of vitamin E and 50 times the antioxidant power of vitamin C.
WHY WE USE NEW ZEALAND GRAPE SEED?
Sunlight and High OPCs: Marlborough is one of the sunniest regions of New Zealand with its intense sunlight so the grapes have much higher levels of protective antioxidant phenolic compounds than those grown in other countries. UV rays are harmful to human because they can cause cancer, but they enhance the quality of grapes to increase the levels of antioxidant.
Fresh grapes (Unfermented): Our grape seed is sourced from fresh grapes which are not allowed to ferment so they retain the active ingredients
100% natural and water based: Our grape seed is processed as 100% water, without using alcohol, solvent or chemicals. In contrast, traditional grape seed extract processes use a technique call ethanol column concentration to deliver higher phenolic or antioxidant content.
We endeavour to not only meet but exceed the highest standards of our customers. Thus, we only focus on creating highest quality products.